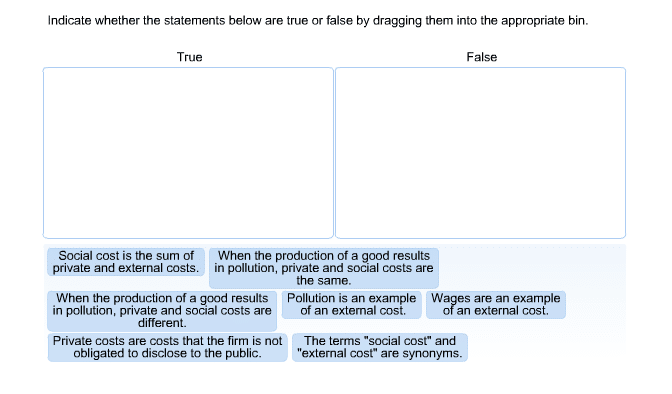 Answer
1)  False. Social and private cost are different.
Key Concepts:
Private Costs + External Costs = Social Costs
If external costs > 0, then private costs < social costs.
Then society tends to:
Price the good or service too low, and
Produces or consumes too much of the good or service.
2) True. Pollution is an example of external cost.
3) False.
A wage is monetary compensation (or remuneration, personnel expenses, labor) paid by an employer to an employee in exchange for work done. Payment may be calculated as a fixed amount for each task completed (a task wage or piece rate), or at an hourly or daily rate, or based on an easily measured quantity of work done.
Wages are an example of expenses that are involved in running a business.
4) True, it is not mandatory to disclose the private costs.
5) False, Social Cost and External Cost are different.
Social cost in economics may be distinguished from "private cost". Economic theorists model individual decision-making as a measurement of costs and benefits. Social cost is also considered to be the private cost plus externalities. Rational choice theory often assumes that individuals consider only the costs they themselves bear when making decisions, not the costs that may be born by others.
External cost affect people other than those involved in the economic activity that produces it and that is not reflected in prices: pollution and other negative externalities.
6) True. Social Cost is the sum of Private and External Cost.
Question 2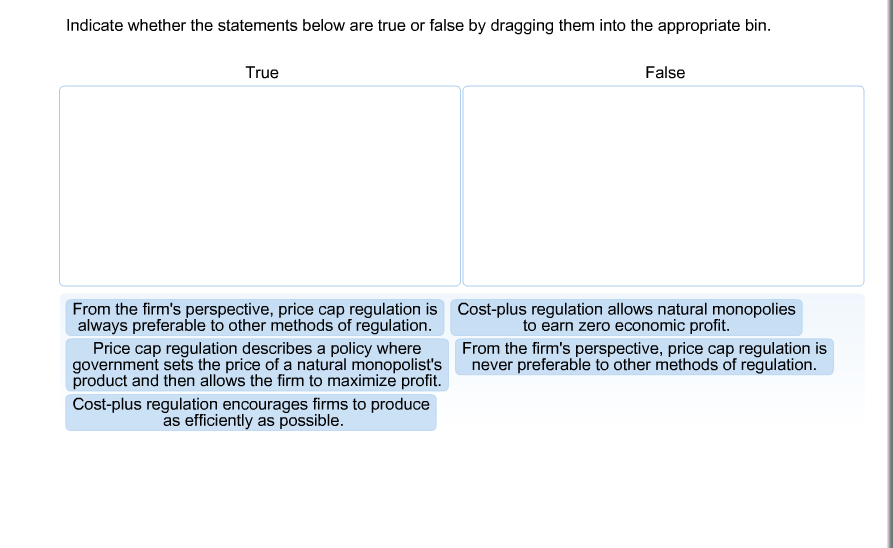 Answer
| | |
| --- | --- |
| True | False |
| Price cap regulation describes a policy where the government sets the price of a natural monopolist's product and then allows the firm to maximize profit. | From the firm's perspective, price cap regulation is always preferable to other methods of regulation. |
| Cost-plus regulation allows natural monopolies to earn zero economic profit. | From the firm's perspective, price cap regulation is never preferable to other methods of regulation. |
| | Cost-plus regulation encourages firms to produce as efficiently as possible. |